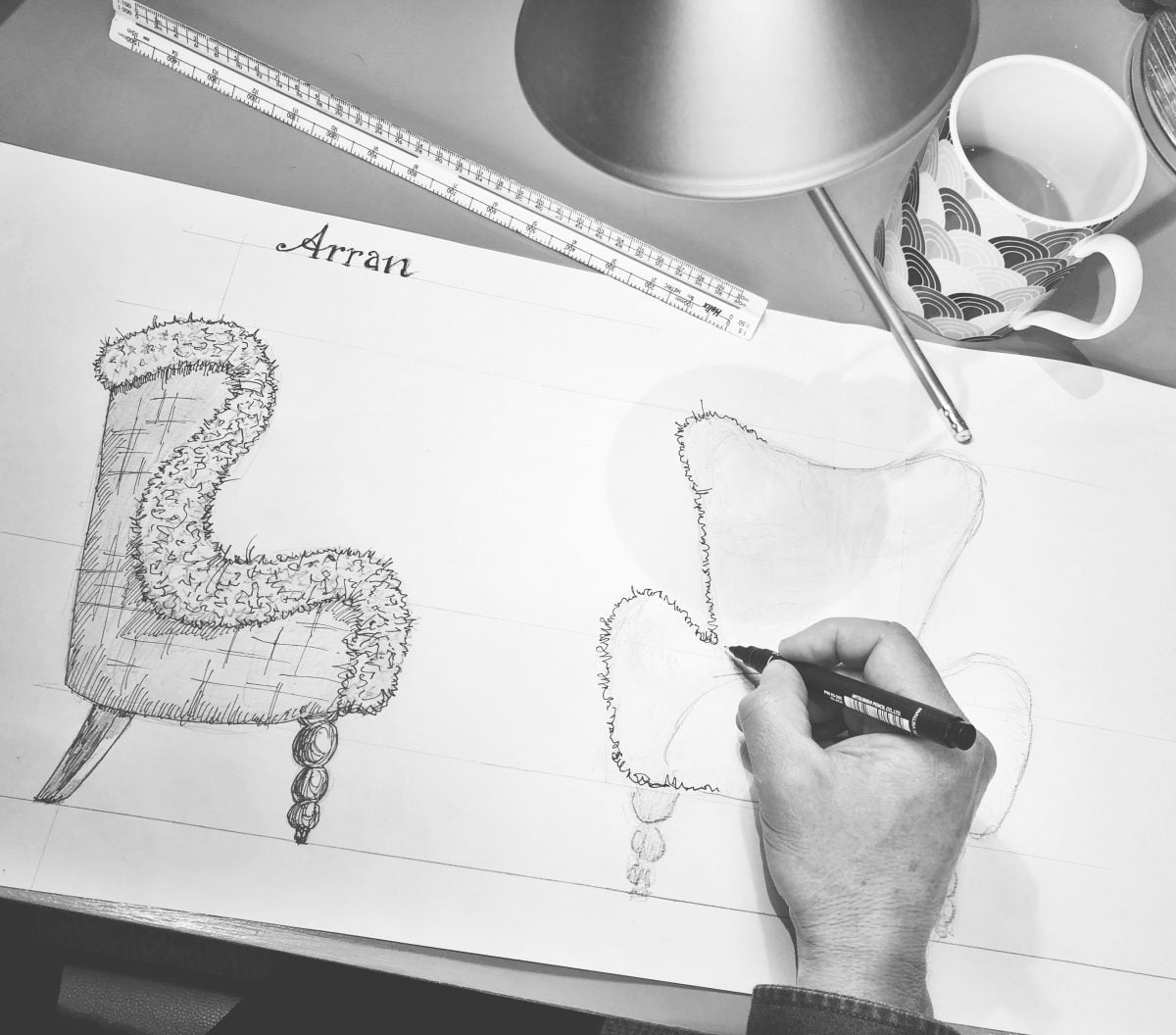 It was while we were enjoying a long weekend on the Isle of Arran that we came up with a new chair design inspired by this beautiful island.
Our friends had generously offered us the use of their lovely cottage. As usual we cut things fine and made the ferry by a matter of seconds, arriving to the smell of burnt rubber and the sound of screeching brakes…and once across the water we realised we had left the keys back on the mainland, but that's another story! Having safely arrived Arran worked its magic and we were able to totally switch off. Positioned in the Firth of Clyde and with its very own "Highland" and "Lowland" areas along with its forests, rivers, small lochs and beaches, Arran is often described as "Scotland in miniature" and from its high point of Goat Fell to Brodick Castle there is no shortage of natural, historical and cultural stimulus. Our particular favourite was the short, steep walk to Coire-Fhionn Lochan – a magically peaceful mountain lochan where Jackie, Paddy and I had the white pebble beach and wide expanse of clear blue skies entirely to ourselves.
We had been ruminating on a slightly less wild design than our Skye chair and the gentle undulations of the glens and coastline effortlessly insinuated themselves into the early sketches of our 'Arran' design. With its deeply scooped wings and softly bowed top rail it has a distinctive, highly individual outline. And with the island's most populous resident being the ubiquitous sheep we only had one upholstery in mind – this time a short haired sheepskin that adds cosiness and luxury to what is already a hugely comfortable chair. Originally finished in a palette that reflects the soft natural tones of the island this popular piece has been bespoked in various sheepskin colours and alternative contrast fabrics to the sides and rear (a version destined for American customers was in pure white sheepskin with a red plaid contrast).
If you have visited Arran we hope you'll think our chair does the island's beauty justice – and if you haven't yet been perhaps you will be inspired to book a wee trip! Whether you are curled up to watch a movie, read a book or take a nap, like the island itself, this chair is one that you'll not want to leave.